In honor of the centenary of
Jose Guadalupe Posada's
death
, Arte Americas is proud to present ORIGINAL works by the influential lithographer and illustrator.
The exhibit is curated by San Francisco-based husband-and-wife collectors Jim Nikas and Maryanne Brady, who have the largest private collection of the artist's works in the U.S.
What is most exciting is that our guest can view the broadsides (newspapers) with print dates circa 1910-1925. Some of Posada's most iconic work -- in the form that it originally appeared -- is here in the gallery. From the dancing skeletons of the "
Gran fandango y francachela de todas las calaveras" to "La Calavera Catrina"
you will be able to inspect the fine detail of these flawlessly preserved prints.
In addition to original prints are more recently produced "restrikes" created from the original plates that Posada worked on.
Nikas started collecting the artist after meeting Arcasio Vanegas Arroyo, of the third generation of the printing family.
"Much of the Posada work that survives today was published by Arcasio's grandfather," Nikas says, "though most of the work Posada did doesn't bear his name. He worked for some 50 newspapers." The periodicals had names like El Fandango, The Macaw, El Diabolito Rojo. Posada was a journeyman who illustrated whatever was called for.
"The advantage to editors is that he could add details to a photo of the front, as needed. Helia Emma Bonilla Reyna, an art historian in Mexico City, just found evidence of a lawsuit by Posada against someone who didn't pay him. We can see from the papers how he worked, by reading this contract, a description of what was wanted. He was a tremendously talented guy—you told him what he wanted, he'd make it for you," Nikas says.
New Yorker writer Joseph Mitchell, sighted Posada's work in Frida Kahlo's room at the Barbizon-Plaza in New York:
"Thumb- tacked all along the walls of the hotel suite were some very odd engravings printed on the cheapest kind of newsprint,"
"'Jose Guadalupe Posada,' Kahlo said, almost reverently. 'Mexican. 1852-1913. They show sensational happenings that took place in Mexico City—in streets and in markets and in churches and in bedrooms. And they were sold on the streets by peddlers for pennies.'"
Mitchell added, "the majority of the engravings were of animated skeletons mimicking living human beings engaged in many kinds of human activities what I found most astonishing about them was that all of them were humorous Old Testament humor, particularly the humor in Proverbs and Ecclesiastes. Gogolian humor. Brueghelian humor."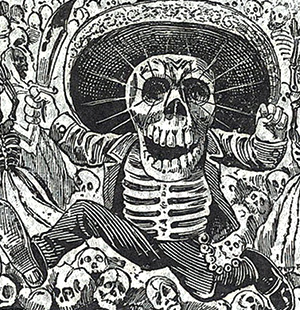 Posada was prosperous enough to have a studio with his name in foot-tall letters outside. But it was hardly a wealthy life. He was widowed, and his son died before him of typhoid. Reportedly, Posada was carried off by a surfeit of tequila during an annual spree; he was buried in what is officially described as a "sixth-class grave" and was evicted even from that. The whereabouts of his bones are unknown for certain. Posada's post-mortem triumph is a tribute to the spirit of his art—he's been dead 100 years and he's still astonishing.